About us
Key Management
---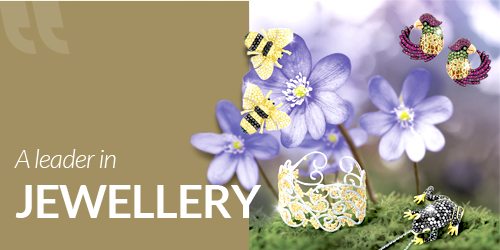 Irene Ng
General Manager (Exhibitions)
Ms Irene Ng joined the Group in 2014 from Taka Gold, which she had joined in 2001, and is currently the Group's General Manager (Exhibitions). Ms Ng is in charge of the Group's participation in Exhibitions, and was instrumental in building up Taka Gold's exhibitions business. She establishes and maintains relationships with international customers at the Exhibitions, assists in the procurement process, and spearheads the sales and marketing team for the Group's Exhibitions Business.
At Taka Gold, she helped to build up the exhibitions business from its humble beginnings in 2003 to a well-regarded and sought-after exhibitor at many international jewellery exhibitions.
---
Julia Tan
General Manager (Local)
Ms Julia Tan joined the Group in 2001 and is currently its General Manager (Local). Ms Tan assists the Managing Director and Executive Director in the Group's day-to-day operations, and oversees the human resource and administration, logistics and warehousing, and sales and marketing departments of the Group in relation to its Retail Business. She is also responsible for devising marketing proposals and protocols, and organising sales events and promotions for the Retail Business. She has been instrumental in building up the Group's jewellery business and in establishing the Group's pawnshop business.
Ms Tan graduated with a Bachelor of Commerce (major in Business Administration, Marketing and Human Resource) from the University of Tasmania, Australia.
---
Macvis Teo
General Manager (Financial Services)
Ms Macvis Teo joined the Group in 2011 and is currently its General Manager (Financial Services). She oversees and manages the overall business and operational matters in relation to the Group's Financial Services business segment – pawnbroking and moneylending business. She is also responsible for procurement of raw materials, operations, as well as revenue generating activities across the Group.
Ms Teo has more than 20 years of experience in the jewellery industry. She graduated with a Bachelor of Science in Business Administration from the State University of New York, the United States of America. She also holds a Graduate Gemologist Diploma from the Gemological Institute of America (GIA).
---
Tan Yee Ming
Group Financial Controller
Ms Tan Yee Ming joined the Group in 2018 and is currently its Group Financial Controller. She oversees the financial and accounting management and reporting functions of the Group. Ms Tan comes with more than 10 years of experience in audit, financial and accounting management, having served four years as an auditor with Deloitte & Touche, five years with a SGX-listed manufacturing group and subsequently with a Norway-based petrochemical gas and crude oil transportation company that is listed on the Oslo Stock Exchange.
Ms Tan graduated with a Bachelor of Accountancy from Nanyang Technological University. She is also a non-practising member of the Institute of Singapore Chartered Accountants since 2003.